WHO IS ROBERT NAMER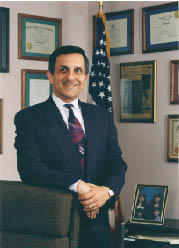 PERSONAL DATA:
Married to Barbara Davis Namer since 1971. Has five daughters (Dana, Lara, Sara, Jana, Jara); eight grandchildren (Rachel, Jake; Abigail, Benjamin; Rylee, Rease, Cole, Jace ; and four sons-in-law (Mark, Shane, Michael and David ).
EMPLOYMENT BACKGROUND:
Started as a business consultant and became president of National Business Consultants, Inc. (1968-1991). NBC is a full service business consulting firm. Clients ranged from Fortune 500 companies to small businesses and professional practices. Independent business and political consultant, radio broadcaster and Internet news editor (1991 – present).
EXECUTIVE SUMMARY:
Broad background in management, marketing, business and strategy development, personnel development and supervision, financial management, mergers and acquisitions, union and contract negotiations, cost reduction, public relations and implementation of projects in various business settings, including the public sector. Conservative radio talk show host and Internet news editor.
SELECTED BUSINESS ACCOMPLISHMENTS:
Built and managed a diversified consulting practice of over 400 consultants and 150 sales personnel in 89 cities * Established and directed corporate-wide marketing, sales, client service, promotions, and management systems * Composed management procedures, programs, and techniques for implementation on retailers, manufacturers, and service businesses * Trained and directed management teams that successfully assisted business enterprises (large and small) become more profitable and efficient * Acquired and managed two radio stations * Founded and managed one of the worlds most comprehensive Internet news and information portals.
SELECTED PERSONAL ACCOMPLISHMENTS:
Certified Management Consultant * Talk Show Host * Broadcaster * Internet News Editor * Licensed Louisiana Real Estate Broker * IFR Private Pilot * certified scuba diver * 32nd Degree Mason * Shriner * Served as Special Assistant to Two Governors * Served on Louisiana Board of Commerce and Industry * Served on Louisiana Small Business Equity Board * Retired Lieutenant of the New Orleans Police Department Reserve * Served on the Boards and Committees of many civic, nonprofit, and business organizations (i.e., American Management Consultants Association, Arthritis Foundation, National Law Enforcement Association, Police Olympics, National Small Business Association) * Received over 150 civic and business awards * Proudly defended a civil legal battle against the FTC since 1989.